Web links | Sample work | Artist Statement | Artist Information

WEB LINKS:
http://www.dirttechnologies.com
http://www.descours.us/arch-art_mutable.htm

SAMPLE WORK:
Click image for enlarged version.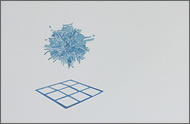 ARTIST STATEMENT:
I am interested in the tenuous nature of structure. I work in the space between drawing and object making. The works register a physics of sorts, of light, air, and applied forces. Delicately static objects balance on the edge of collapse. They evoke the distinctly human pendulum that oscillates between the charged poles of stability and the dangerously fragile.
Employing the techniques of architectural model building to achieve physical connections, I expand drawings into space, give them dimension and atmosphere. Often, a base unit is repeated and multiplied to this end, forming space-filling structures from simple geometry. Within the basic field, relationships of magnetism group and repel. Forms accumulate, dissolve, and reappear. The pieces move through sequential phases from one work to the next; if one collects into a grouped form, the next, through drawing, disperses into the small multiples of a changeling shape. The work interacts with the space of the page or the room into which it is placed. Relationships with the walls, floor, and ceiling register the pull of gravity, the flow of air, or the relative stasis of a corner.
[ back to top ]
Education
2002, Cranbrook Academy of Art. Bloomfield Hills, MI
Master of Architecture II, Elective in Ceramics

1995, Tulane University, School of Architecture. New Orleans, LA
Bachelor of Architecture, Professional Degree Master of Architecture I

1994, Heriot-Watt University, Edinburgh College of Art. Scotland
Awarded Junior Year Abroad
Selected Exhibitions
2008

DesCours, Public art collaboration with Liz Sargent & Michelle Gay, AIA Group Show, New Orleans, LA
American Beauty, South, Public art installation, Sweet Home Motel, Group Show, Hwy 61, New Orleans, LA
Abstracted Landscapes, The Society of Arts and Crafts, Group Show, Boston, MA

2007

Together at Last, Red Gallery, SCAD Group Show, Savannah, GA
TRACE, Kirkland Art Center Gallery, Group Show, Seattle, WA

2006

Back to the Floor, A Juried Exhibition of Rugs, Elaine L. Stevens Gallery
at Wayne State University, Detroit, MI /Juried by Rebecca Stevens, Consulting Curator Contemporary Textiles, The Textile Museum in Washington, D.C.

2005

Living Light on the Land: Prototypes for Sustainable Architecture & Design, Network Gallery at Cranbrook Art Museum, Group Show, Bloomfield Hills, MI

2004

By A Thread: a contemplation of design, Aronson's Floor Covering Group Show, New York, NY

2002

Makers' Marks, Tangent Gallery, Group Show, Detroit, MI
Cranbrook Academy of Art Degree Show, Cranbrook Art Museum, Group Show, Bloomfield Hills, MI
An Inch of Art, J.M. Kohler Arts Center, Special Exhibition, Group Show, Sheboygan, WI

2001

Bridge, Cranbrook Forum Gallery, Collaboration with Liz Sargent, CAA Fiber Department, Bloomfield Hills, MI
Red Orange + 63 Other Colors, Cranbrook Forum Gallery, Group Show, Bloomfield Hills, MI
Birmingham Project with Tyree Guyton and the New Museum of Contemporary Art, Birmingham, MI
Artist Residency
2004 The Banff Centre, New Works Residency, Banff, Alberta Canada
Awards
2006

Stark Carpet Design Award

2005

Metropolis Editor's Picks, 2005 Metropolis Next Generation Design Competition exhibited at International Contemporary Furniture Fair, New York, NY & Neocon World's Trade Fair, Chicago, IL
Competition / exhibited at International Contemporary Furniture Fair, New York, NY & Neocon World's Trade Fair, Chicago, IL

2002

CAA Venture Fund for Bunche Arboretum with the CAA Architecture Department

2001

Guest, CAA Ceramics Department, Mono Foundation, Salulita, Mexico
Bibliography
"Upfront review: Marianne Desmarais"
Ceramics Monthly 11.07 by Matthew Kangas
"Design File: Floor Polish"
Azure 3/4.06 by Elizabeth Pagliacolo
"Once Wearable, Now Art"
Fiber Arts 1/2.05 by Liz Good
"Maker's Marks: a collaborative installation"
Detroit Free Press 8.02 by Keri Guten Cohen
"Art Gardening: Heidelberg's lone ranger works with Cranbrook's architects and school kids for change"
Metro times 6.02 by George Tish
"New artists take a fresh look at materials" (one of four featured)
Oakland Press 4.02 by Bob Gross
[ back to top ]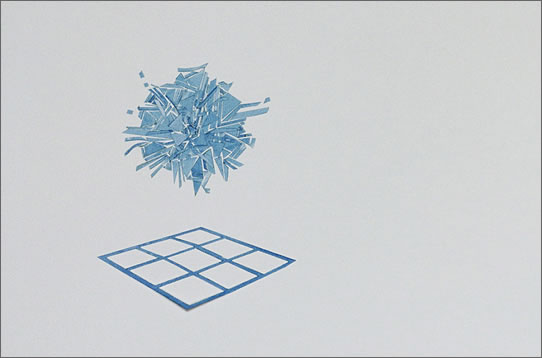 Bolus 2

[ back to top ]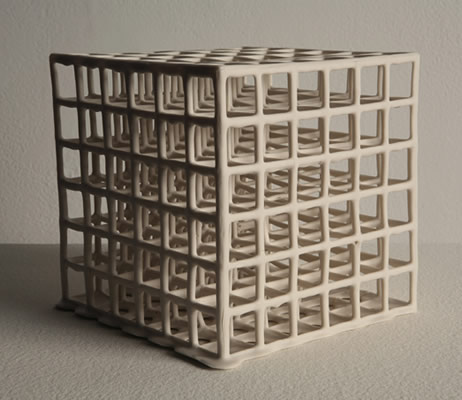 6x6 Grid

[ back to top ]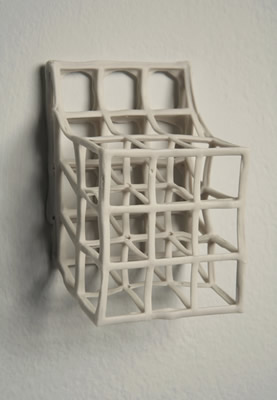 3x3 Grid

[ back to top ]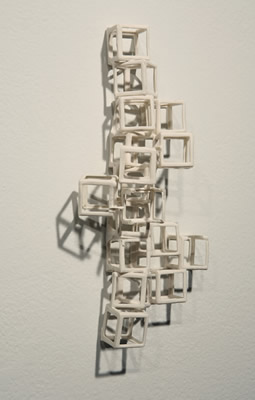 Stacked Cubes
[ back to top | back to artists | next artist ]